If you run a car-related business online, you want to make sure that it looks totally amazing because you'll be able to convert more clients in that scenario. To do that, you need a website that looks decent and conveys the idea that the services that the company provides are of the same top-notch quality, just as the site itself. So if your site looks sucky, your visitors may assume that your services are of the same nature.
Problem is, it's not really that easily to create a site with really awesome looks. Or is it?  What about the epic car dealership website designs below in the post? You can just select a pre-designed theme for your website, easily and quickly modify the design so that it has your stuff (wording, images, colors, etc), tweak a few features and off you go.
I hand-picked a few templates here for those of you guys out there who need a site with no fuss at all. You will be able to create a site with all sorts of features you may need, such as a plain car dealership site or even a site that allows to get a fast car insurance quote, just to name a few. At the end of the day, sky's the limit.
As a rule of thumb, you can easily edit the templates below either right from the comfort of your admin panel (it's called dashboard in WordPress). Even if you need to change something in your site and it's not possible to do that in the admin panel, you still can edit actual site files which are available with all the designs listed in the post.
Epic Car Dealership Website Designs
Automotive Car Dealership Business WordPress Theme
This is a WordPress theme, which means you can effortlessly install it on your WordPress site if you already have one. If it's not the case and you just need a theme for your brand new site that you want to launch any minute now, that's perfectly OK as well. That's because installing WordPress is a breeze. Now let's take a closer look at the template's features.
For starters, it's responsive. That means your website will look awesome on virtually any device. Even if Apple or any other company launches a super-duper new screen resolution that never existed before. Long story short, your WordPress site design is both future and fool proof. Other features worth mentioning: automotive listings, customized contact forms with recaptcha, seo enhanced and the list goes on and on.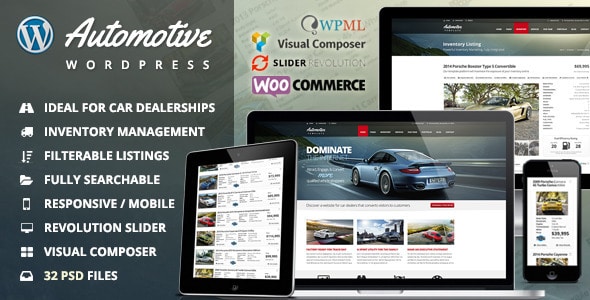 Auto Car Repair Mechanic Shop Responsive Theme
It's another WordPress theme. The theme is built for Auto Mechanic, Car Repair Shops, Car Wash, Garages, Automobile Mechanicals, Mechanic Workshops, Auto Painting, Auto Centres and other Auto and Car related services and it is suitable for any kind of small business activity. Plus the website template is suitable for users with zero programming skills as well as advanced developers.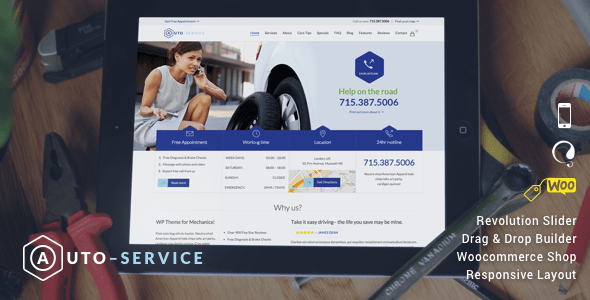 Car Dealer / Auto Dealer Responsive WP Theme
This great theme can be used on any level of business starting from huge car dealer companies and for guys who want to sell their own cars. Every user who enters the website can create his/her own account with his/her personal information, contact details and post there lots of different cars to sell. Everyone can feel how to be a CarDealer!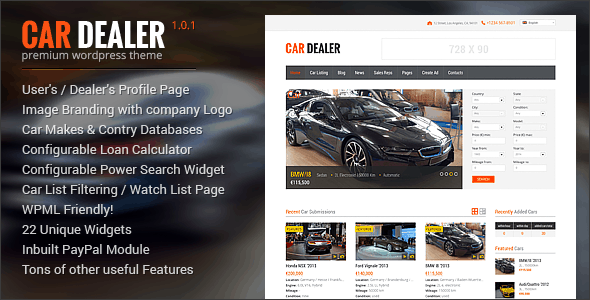 Auto Dealer – Car Dealer WordPress Theme
Some say it's the first car dealer theme out there. Though I am not really sure how to check that, I can assure you that it's a really lightweight WordPress theme based on a grid framework, which means your site is ready for any device and screen resolution available out there. Both site size (speed) and  appearance play an important role in ranking your site by search engines.
Thing is, up-to-date search engines really like it when a site is both light-weight and knocks your socks off by its looks because such sites are really appreciated by actual visitors. You don't want to wait for ages till your site is fully loaded. You also don't want  to see some crappy designs when they finally loads. You want something that really feasts your eyes!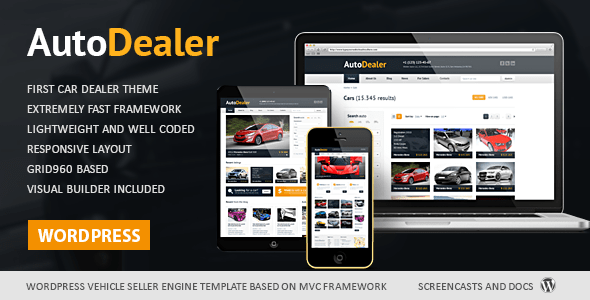 OpenDoor Responsive Real Estate and Car Dealership
It's pretty much the standard now, but you still want to know that the WordPress theme is responsive. All those devices on the screenshot below are depicted there for a reason. You can easily edit the theme to meet your needs.
You can use the theme for all kinds of car-related sites, such as car dealerships, repair shots, care insurance companies, you name it. Other than running a blog, you can also make good use of pages like Meet the Staff, Documentation and Contact us. Also, if you sell cars on your site or just want to start doing that, the template offers you ready-made layouts for doing so.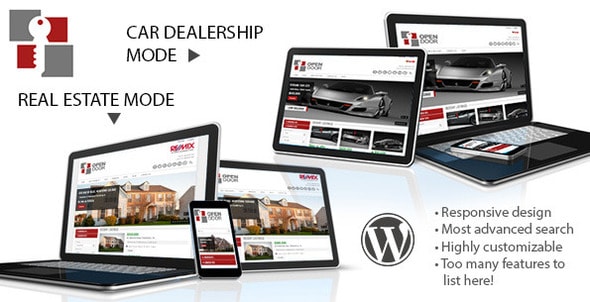 AutoDealer – Car Dealer Premium WordPress Theme
AutoDealer is a professional responsive vehicle marketplace Premium WordPress theme. Everything is done on the front-end your users can, register, login, edit their profile, submit listings, and so much more from the front-end without having to visit the WordPress dashboard. And if this isn't enough, your users will also be able to manage their existing listings from the frontend dashboard page, they can decide to delete their listings or to update them.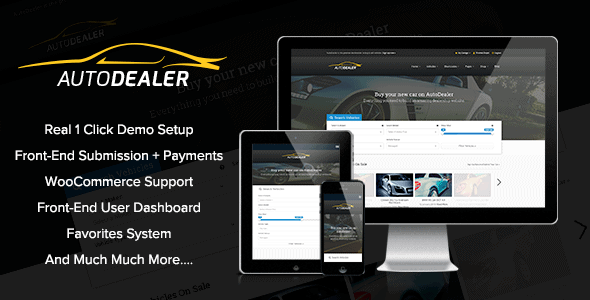 Insurance Company Landing Page
In our day and age, you never know what can possibly happen literally down the road. That's why more and more people start seeing the reason why they need to insure their vehicles as safe as possible. Though you're required to have car insurance coverage in almost every single state (except for New Hampshire), it does not really mean that things are really that simple in the car insurance department. Here's the deal. Since all sorts of car insurance scenarios are possible, there are also different types of insurance coverages.
For instance, liability coverage. This coverage basically means that if you got in a car accident and the other driver is to blame, he will compensate all the expenses. On the other side, the collision insurance policy is quite a different kind because both parties are compensated in that case. It can be damage to the property, car or even any medical bills caused by the accident in question. Needless to say, this sort of insurance coverage will cost you more for good reason, but is't it really worth being in the know that you're totally covered regardless of what happens next day.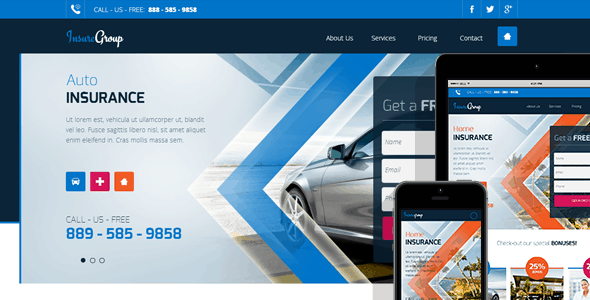 ---
Bottom Line
Since the design of your site is the first and more often than not the only thing that your customer can get to know about your company right away, you want your website to look absolutely stunning. Firs sight matters. Hands down! And with all the eye-candy designs that you can easily apply to your WordPress site, there's no more excuse not to do it.
What are you waiting for?