Are you a local SEO expert? No? That's actually too bad. You're LITERALLY leaving money on the table. You know why? The point is that you really need that sort of skills. The reason for that is because if you're well-versed with that aspect of our trade you can work as a local SEO consultant in your local area. You can find clients left and right in that case. You can just go to your closest brick and mortar store and offer your services. And that's instead of finding customers on the web. Make use of that advantage. In other words, you'll be able to combine what you like (visiting your favorite stores and using services) with what you need, which is finding customers.
Local SEO Expert in the Wild
The point is that I've got a customer the other day and he needs SEO for local search. The customer is a Boston wedding DJ. So, I'll use the info from his content promotion campaign (I got his permission to disclose the details) to provide you with real life examples of how I practice what I preach.
Is Local SEO for Everybody?
The thing is you (as a business owner) need local SEO if customers can come to your actual physical location and buy stuff from you. And that implies to most businesses out there. The reason for that is simple. Your customers or prospects live in certain locations. Since they do (duh!), you need to target those specific locations to start getting noticed. And there's no better way nowadays than local SEO to achieve just that.
And here's a cool video from Rand Fishkin where he explains that you still can use local links even if you're don't really care that much about local clients.
Local SEO vs National SEO
First things first. Let's make sure that we're clear about what is what here.

Local SEO makes sure that the people that live in your area find your business if they need some local services or products (bakery, dresser's, drugstore, you name it). Search queries of this type usually contain location names (Boston DJ, Boston wedding DJ, etc).


National SEO is all about global customers, regardless (at least to an extent) of their location. It's better to do national SEO if the site provides non-tangible products that can be easily sent via the Internet.

Now that you can tell the difference between them you are definitely dying to know how to do link building for local SEO. The thing is that most of the national SEO factors still still work for local SEO, but there are some extra ingredients, which are:
What about Local SEO On-Page Optimization?
Just like in the case with off-page SEO, pretty much the same factors are in business, though there are a bunch of additional ones.
Use your business name, address and phone number on every single page of your site, sticking to the same format. The perfect location would be the footer and that's really easy to do that if you're using WordPress.
Your city and state names in your title tags, meta descriptions, and the content of your site.
Make use of a KML file
Recovery and Discover Local Search
There are two types of local searches: recovery and discovery.
If somebody knows the name of your company but needs contact or location information, they type in your brand name in the Google search text field, that's called recovery local search. You kind of recover the info that you once knew. So, in the case of my customer, the recovery search queries would include:
DJ Stevie Ray
DJ Stevie from Boston
Stevie Ray from Boston
DJ Steven Ray
On the flip side, if you don't know exactly the name of the establishment or person you're searching for (discovery search), you just use the queries (words and word combinations) that should give you an idea where to find that business and how to contact it. And again, in the case of my customer search words and phrases would be something similar to:
Wedding DJ Boston
Boston Wedding DJ
Event DJ Boston
Boston DJ
DJ Boston
Local Search Gets More Influential
For starters, it's obvious that Google prioritizes local search in case you search for something local and not only. Now let me explain what I mean by that.
Just go to google and search for "dj". That's what you're gonna see.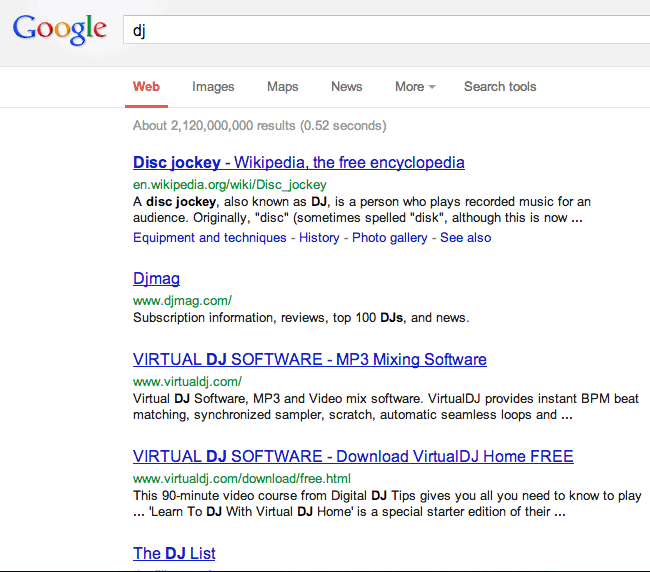 So, that's how it works if you just specify the person or object regardless of its location. Now, if you search for "dj boston" or "wedding dj boston", you're gonna see way more localized results. Check it out.
---
As you can see for yourself, apart from just some meta titles and descriptions with links (sometimes images and/or videos), the search engine results page (Google) shows business names, phone numbers, and map locations of specific businesses. And you can see a local map that shows where those businesses are located. That means high rankings in Google local search can actually bring real local customers to your business. And that's why business owners are ready to KILL for a local SEO specialist.

If you use a search term with a location, Google will most likely show you local search results with a map, business names, phone numbers, etc.
What's more, GPS-enabled devices help really pinpoint a potential client and provide him with extremely relevant offers. With the invention of the iPhone and similar devices, local business owners can really make offers to their customers right on the spot, because they know where exactly the customer is when he visits their site. It makes the whole business approach extremely interactive. GPS-enabled devices are aware of your position in time and space. In terms of promos and stuff like that, the sky's the limit.
The foremost thing to keep in mind is that you need an account with Google Places. For starters, it's actually the main factor (at least one of them) that helps you achieve high rankings in local search. Plus if you don't register your Google Places account, your competitors can do it and you won't maintain control of what Google Places says about your business. Sure thing, you totally don't want that.

Google Places
To get started with local search, you need to first of all get a listing in Google Places. This Google service allows you to make your business info available on the web even if you don't have an actual website. Sure thing, it's way better if you both have a website and your Google Places listing.

The first thing that you need to do for promoting your site in local search is get a Google Places listing, because if you don't, you'll be shooting yourself in the foot. Plus it's totally free of charge.
While creating your Google Places account, make sure to specify the right data only, because otherwise Google may suspend or even remove your listing.
You need to specify the following details about your business:

business name. Though it's Ok to use one keyword (phrase match) in your business name, you definitely don't want to stuff it with all your keywords.
mailing address (for snail mail). Make sure to provide the correct info only, because your listing may be "killed" otherwise. It's totally not a good idea to game the system, because once Google finds out they'll remove your listing and you will lose a whole lot of customers. You need to specify one email address only. You want to use the email address of the area that you wanna serve to because it'll allow you to earn some Google Places points. One more thing to keep in mind is address proximity to the city center. If your physical address is closer to the center of your target city, it can give you some extra points for high keyword rankings. They use the factor because of the thing called "centroid bias". People tend to put more credibility and respect to businesses that are closer to the city center. It's like something is cooler if it's closer to your city center.
also, you need to specify your URL and phone number (landline). Make sure that you use a phone number with your target area local extension (area code) because it'll help you with local Google rankings.
in the "Description" text field, you can get a bit more creative and describe what your business does and what sets it apart from the rest of the gang. You also want to mention your keywords and their synonyms in your description.
you need to specify your email address. Keep in mind that the email address should not be a general Gmail one, but rather based on your domain name. Use admin@mydomain.com instead of mydomain@gmail.com .
photos and videos. Other than just making your site more user friendly, photos and videos of your business will also help you boost your local rankings. You may want to read this post to learn how to geocode images so that they are associated with your target local area. As for videos, you can specify where your Youtube video was shot right in the Advanced Settings section (Video location) of a particular video that you upload on YouTube.com .
Applied… What Next?
Once you've added your listing, it can have one of the following statuses:
Active
Need Action
Pending
Suspended
Having clicked the "Submit" button, you can specify how you want to be contacted to verify your business. You can choose from texting you, calling you or via snail mail. I personally chose the texting method and Google sent me the code within a few minutes. You just need to copy and paste your code and click verify. That done, you need to wait for about a week till your listing appears in local search and Google Maps.
You're good to go when it says "Active". In case of "Need Action", you need to do what you're being prompted to or just contact Google Places. If it says "Pending", just wait when the status changes. And in case it says "Suspended", you need to fix any outstanding issues and contact Google Places so that they change your status.
You need to ensure that you add your listing to the most relevant category. In the case of my customer, it is DJ. Plus you can also specify some additional categories (DJ Supply Store in this particular case) to bump up your listing's visibility.
Once my client created a Google Places listing, his business information appeared on the map if you search for his business name with location (DJ Stevie Ray in Boston).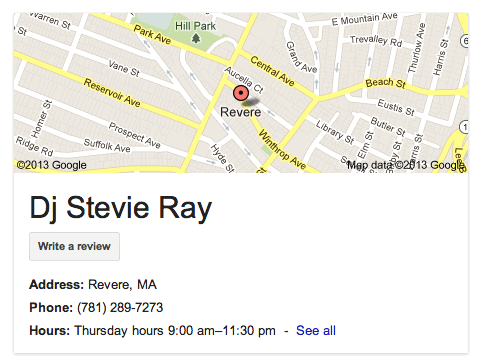 And this is how it looks in the Google Places dashboard.

As you can see, there's no video attached to the listing but we're currently working on that. 🙂
---
Citations
A citation is a page on the Web where your name, address and phone number (aka NAP) are used at the same time, following the same format as your local listing. We all know that Google is pretty smart, but it still makes sense to make it easier for the search bot and use your NAP in the same format (same order and formatting) throughout the whole Web. Should you want to abbreviate something, be sure to do it the same way every single time. Check out this video from Dave James about citations.
---
Reviews
You want your customers to leave reviews on your Google Places page, because it's one of the factors that'll help you promote your local Google ranking. To do that, kindly ask your clients to visit your Google Places page and let the world know what they think about your products or services. And it's another reason to do your work best. 🙂
Once you provided your customer with your services and he's happy with how you did it, you want to ask him to leave a positive review on your Google Places profile. Make sure to let people know that they can leave reviews about your services or products. For example, you can place a leave-a-review logo up in your window. Another effective (not new though) way is to put a message and a link to your Google Places page in your email messages. It goes without saying that you need positive reviews, but a few neutral or even negative ones will make your profile more credible. Yelp.com actually can even ban you if your business has overly positive reviews. So, it's OK if you have 2-3 negative reviews on your account.
In case you're thinking about buying reviews, better don't. Though Google is not that clever right now, they're constantly working on being able to tell the difference between a real and a fake review. Even if it works now, you don't want to put your business at stake once Google rolls out its another algo update.
---
A Local SEO Checklist for Brand-New Sites
The SEO guru Rand Fishkin totally knows what he's talking about in terms of all things SEO. Check out what he says about local SEO.
---
Local SEO Tips
you wanna use your City/State combo as anchor texts (don't overdo though). Other than that, you can also specify your zip code as anchor text.
guest blog on local resources.
you need to host your site in the country/area that you want to target with your local business. If you can't do exactly that, make sure that at least your DNS is located in the target area.
while doing link building for your site, be sure to obtain links from the same language market. That actually makes sense because if you're targeting a specific area, a certain language prevails there. That's the one you need to use.
also, use country- and language-specific accounts in Google Webmaster Tools.
don't use a mixture of languages on your site. In case you really want to serve for two or more language communities, you can just set up appropriate subdomains.
your WHOIS location record should coincide with your target area.
Services a Local SEO Expert Godda Use
This service allows you to use your Google Places listing information across multiple other local listing platforms. Actually, you may want to watch this video where the CEO and founder Howard Lerman demonstrates how the platform works.
And another video from ValleyGirl
This online tool allows you to check all of your social profiles and claim them if they are availale (while not strictly local-centric, many profiles will show your name, address and phone number, which will instantly give you a whole pile of local citations.) Watch this video to get the idea of how it actually works.
This particular tool just allows to locate the best citation sources for your city.
You can use it to track your rankings with localization (your rankings as seen by someone in your City/State.)
Your Accountant vs SEO
As a matter of fact, SEO is pretty easy to do, but it's also easy to mess something up if you're not in the know of what is happening in the world of inbound marketing, which is also known as SEO. Plus if you assign your accountant (no offense) to do SEO for you, he may unwillingly do it wrong (such as over-optimize or use inappropriate permalink format in WordPress) and it can really jeopardize your whole business. You get what you pay for. It does require initial set-up but SEO is actually an ongoing thing. If you need a Pro result, you need a Pro for the job. Nuf said.
---
Conclusion
As you can see, local SEO works in a bit different way, but you definitely don't wanna miss out on it, because it's a vivid and viable market for you as a local SEO expert and your customer (business owner) who can earn good money after you SEO-optimize his site for better performance and higher rankings in local search results.
---
More Local Search Reads