Every email marketer is constantly on the lookout for new tools and ways to increase the open rate and ROI. The modern technologies are evolving so fast that a marketer simply can not rely on same old tools and techniques any more. And while such established email clients as MailChimp, Getresponse and AWeber are doing their best to evolve and bring you new opportunities for your email marketing efforts, the truth is – the future of email marketing is already here and it has a name – SendPulse. Today we are going to look closer at this fascinating startup that brought Artificial Intelligence to the email marketing field.
What is SendPulse?
First of all – SendPulse is a startup, which is impressive considering the amount of work they've already done and continue to do. Another impressive thing about SendPulse as a startup – they were among the 3 finalists of the 2016 Next WebScale program and were named one of the best startups by The Next Web the same year.
SendPulse is a multi channel messaging platform that provides bulk email, SMS and push notifications. The platform allows you to combine these three channels of communication to get the best results for your marketing campaign. With SendPulse it is easy to contact your customers via email, reach those who did not respond to email via SMS or web push notifications and do it all automatically. It is proven that open rate increases by 30-80% with the Resend to unopened feature SendPulse offers, and by over 30% with the web push follow-up and email follow-up features.
How does Artificial Intelligence work to increase the open rate?
In this day and age an average person receives hundreds of emails per week, so how can you be sure your valuable message won't get lost among this sea of emails? SendPulse uses AI to solve the issue for you. The system collects the information on your users' behaviour. It can find out when they open emails, their time zone and email preferences, their browsing history and product purchases. Then the system analyzes the gathered information and determines the best time and the best way to contact each of your subscribers. And it will apply the knowledge automatically. Amazing, isn't it?
Main features
SendPulse offers quite a number of all the usual features any other email marketing tool provides. And then some more.
Email templates
SendPulse provides over 100 free email templates for various subject categories. The templates are professionally designed, all you need to do is add your custom text and that's it, you are all set up to reach your subscribers.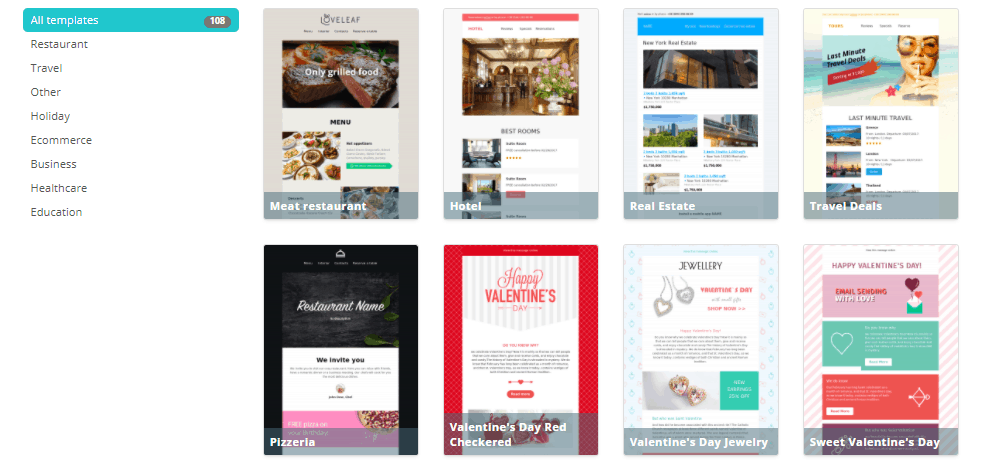 If you prefer completely custom emails to those made with templates, SendPulse has you covered too. The editor is very easy to use, all you need to do is literally drag the blocks you want to add to your email to the places you want them to appear at.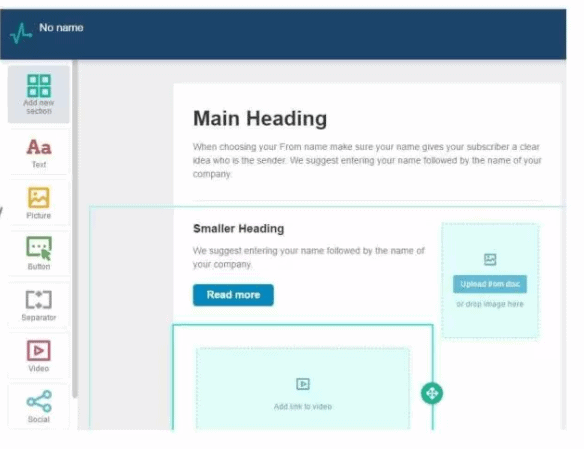 Subscription forms
You can create your own subscription forms with the drag and drop editor, just like emails. Or use one of the provided templates, which are quite good, though not something very special.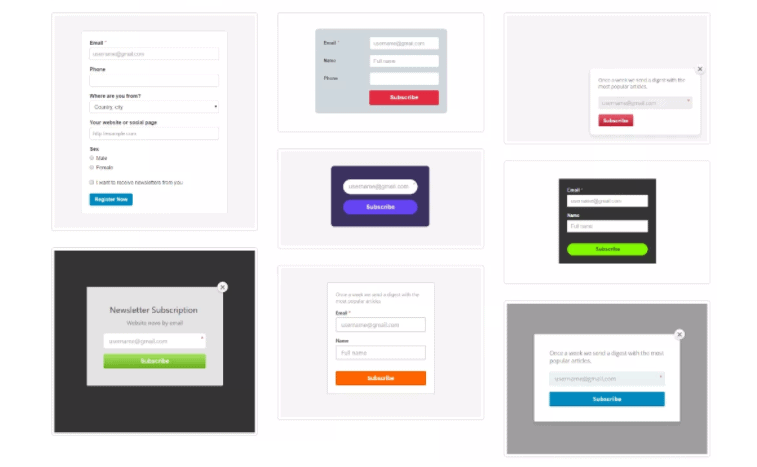 Autoresponders
SendPulse provides autoresponders even with the free package. Autoresponders are essential when it comes to growing your email list. And the fact that SendPulse offers them for free is quite special.
Web push notifications
Push notifications are all the rage in the marketing world today. And SendPulse offers them for free too, though under the free plan your push box will be labeled. In any case, this is an awesome tool to reach your customers even when they are not on your website.
Resend to unopened
Now this one is a very cool feature. SendPulse will send emails to those people in your subscribers list, who haven't opened your emails. As I've already mentioned, this feature easily increases your open rate by 30-80%, depending on your industry. Impressive, right?
A/B testing
Split testing is important for success of any marketing operation. With SendPulse it is quite easy to do: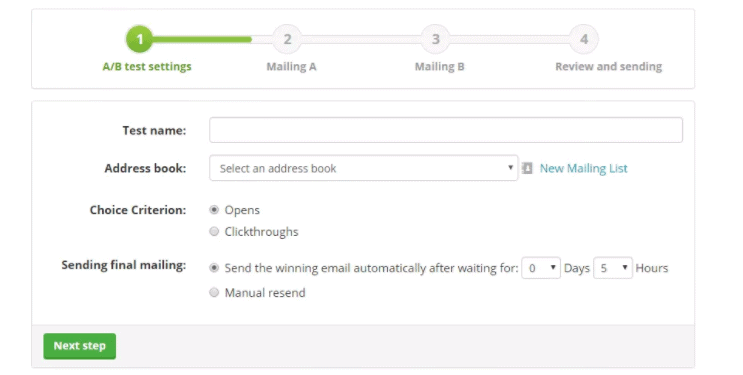 Segmentation
SendPulse allows you to segment the mailing list by gender, interests, location, previous action etc. This is a great way to make your email more relevant and thus more trusted by the recipients.
Personalization
This great feature will make your email campaign perfectly targeted by adding subscribers' info into the subject or body of your emails. This can be anything from age and gender to company name and position.
Analytics
SendPulse offers reports on such stats as open rate and click rate, geographic stats, click chart, device statistics and error statistics.
Pricing
SendPulse offers quite a number of awesome features in their free plan. The free plan is limited by 2,500 subscribers and 15,000 newsletters per month. And their paid plans are very reasonable too: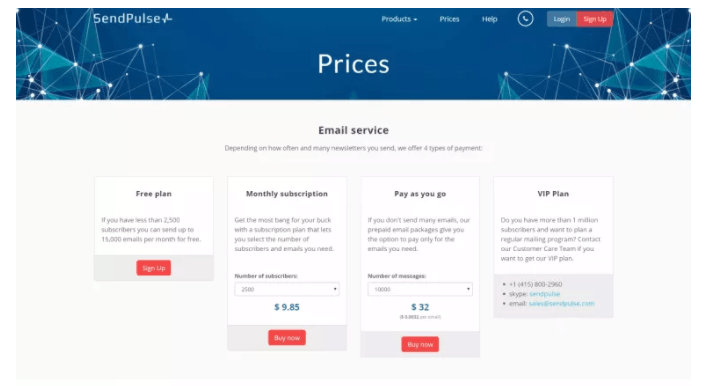 Conclusion
SendPulse is an affordable platform which offers all the usual tools and a number of really unique ones. The upcoming releases are promised to include and AI solution to automatically choose the best time to send your messages, and the best channel to do it, automated email personalisation and automated optimization of content and subject of your messages. I am sure that when these promised features are added SendPulse will give the competitors a run for their money.