Sliders are one of the most popular features that are most commonly being used by leading media websites today. They have become an essential element of web designing lately. It is the best way to showcase the wonderful gallery your website already has in the most creative manner.
Do you have a collection of images you clicked and videos you shot? Then, you just need to install this amazing responsive slider plugin to make your WordPress website even more attractive, right now!
We'll be looking at one such popular free WordPress slider plugin called SlideDeck
SlideDeck – The Basics
SlideDeck, the responsive WordPress slider plugin, helps in adding an amazing feature to your website, which makes your website visually more appealing if you make efforts in the correct direction. I will tell you how.
SlideDeck makes it possible for you to have a planned strategy in mind about what kind of slider do you want to make, and customize the content in order to create the exact same slider as you planned.
Another advantage SlideDeck has is that it is a responsive slider plugin. Keeping in mind that most of the internet browsing takes place through mobile devices. So, whichever slider you will create using SlideDeck will be perfectly viewed using any kind of mobile device, just similar to how it will look on the desktop.
SlideDeck also contains so much more amazing features. But before going into that part of the review, let's first understand how easy it is for you to create a slider using SlideDeck, and what all things you should keep in mind while making an effective slider.
Before going further, you can download SlideDeck for free and install it to simultaneously use this premium plugin as you read further.
Creating a Slider Using SlideDeck
It is necessary for you to understand ways to create sliders in SlideDeck, to get a clear idea of how you can incorporate the same techniques to fit into your plan of making a slider.
So, basically, there are two ways you can create a slider,
1. Dynamic source
2. Custom content

Using the dynamic source can enable you to add media from other sources like Facebook, Vimeo, YouTube, etc., in your slider. And the custom content is the way to create a slider with your very own content, which can be in the form of image, video, text, or HTML, or a combination of any of these options. Your strategy of creating a slider, your needs establish which way to implement for creating a perfect slider.
Using a dynamic source in SlideDeck is quite easy.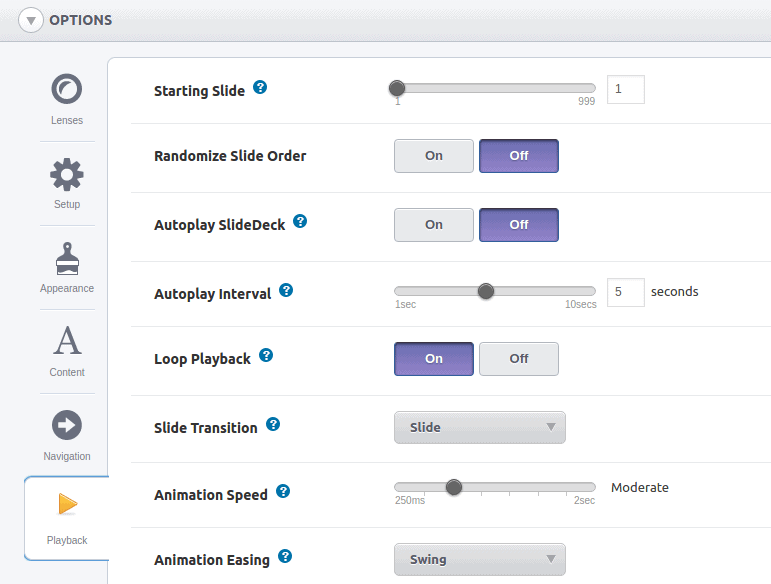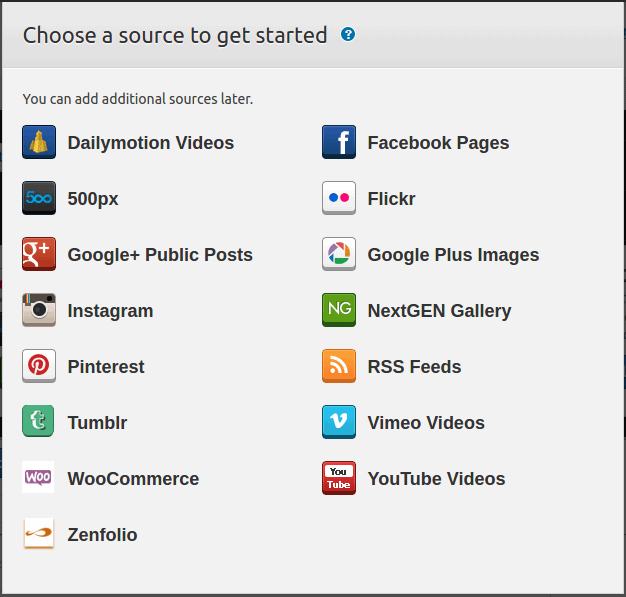 You can simply select a source of your choice among the various options provided in the plugin, and then insert the necessary information about the media file online to insert it into your slider. Its simplicity is the best feature, you don't need to be a WordPress expert to use SlideDeck. Making a slider with the other method of custom content can be a little daunting for beginners, but it's not… trust me! We will discuss this method later in this review.
So with the help of dynamic source and custom content, you can fetch or add your desired media file into the slider, and add it to your WordPress website in the simplest way possible.
Best Features of SlideDeck
1. Lenses
Lenses in SlideDeck are a way to design the appearance of your slider. Lenses help you create the kind of outlook you want to give to the slider, which can be simple and professional or informal and funny… you can choose that with the help of lenses.

You get thumbnails of various lenses, and according to the theme of your slider, you can pick among 16 lenses that SlideDeck has to offer. This is a great way to give your slider an appropriate and unique look.
2. Setting Up the Slider
The setup of the SlideDeck plugin gives you more control over your slider with the options like the size of images as well as videos, the number of slides, front cover and back cover, mouse hover, etc. You can also add a scheduler to you slider, to save your time and energy to setup different sliders for different events.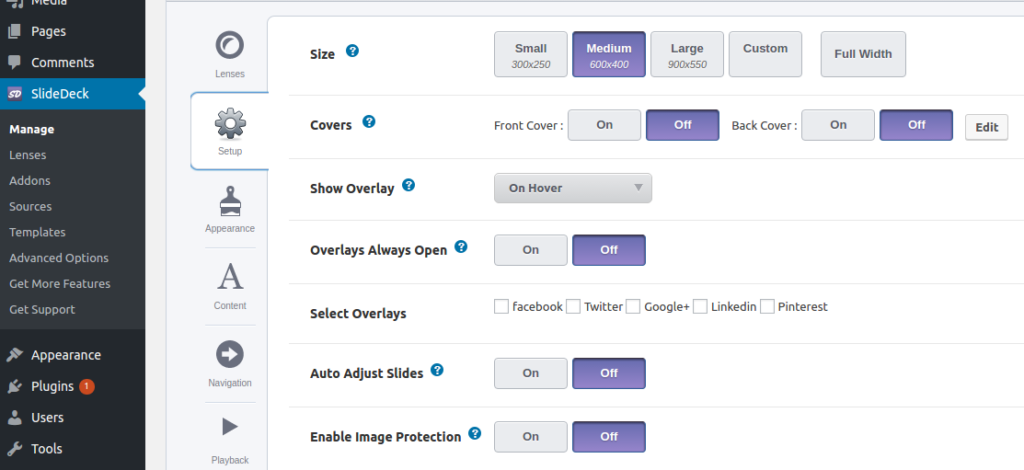 3. Appearance Customization
You can customize the font type and size of the title you write for the slider, its position, size of the image, accent color, hyphenation of the content, and many more things using SlideDeck. You can keep different the font of the title and that of the body.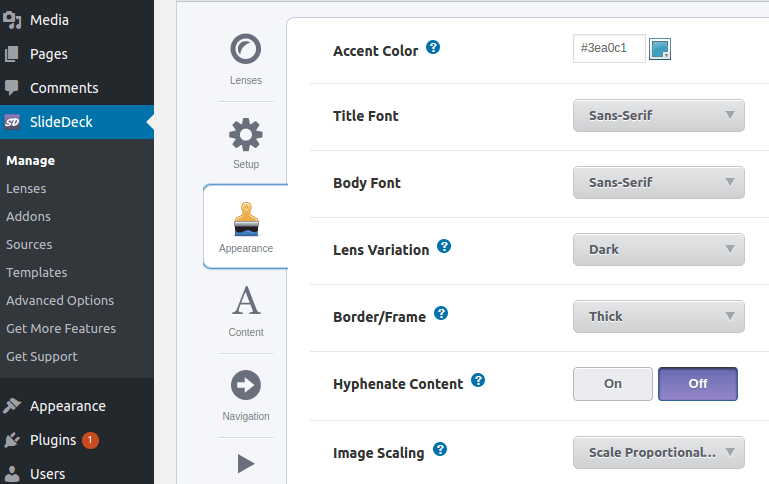 You get so many options to customize the slider, which you must keep in mind while planning the strategies to make a slide. The customization options may change with the type of lens you choose. You can just even make smaller changes as you want in this slider plugin. As you go on making the changes, the preview displays it to you and you can immediately find out whether you really want to make that change. It really makes the task easy.
4. Content
Here is where you can customize the appearance of the content you will feed to the slider. With a myriad of options here, you can simply make it appear on the screen as you had imagined it.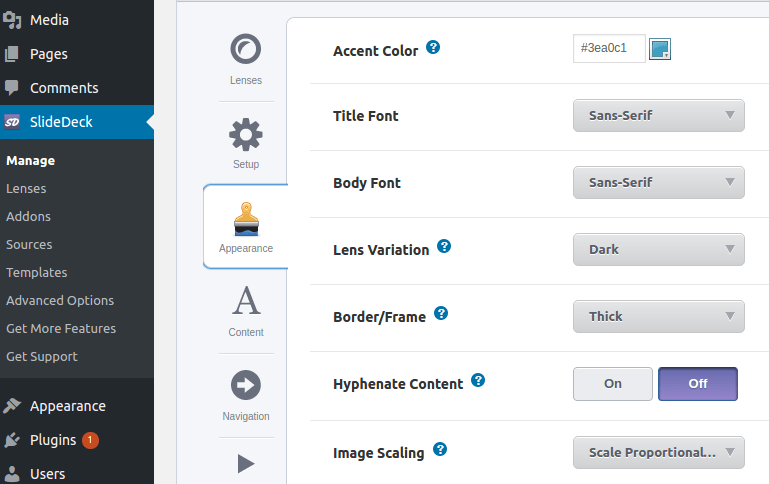 You can choose whether to show excerpts or not. The title length with media and without media can be adjusted. It just makes it convenient for you to create a slider for your WordPress website. The best part about this feature is, you can add a 'Call to Action' button here. You can either add media to it or you can just simply use it as 'CTA' button with the caption like 'subscribe', 'follow', or 'order now'.
5. Navigation and Playback
By controlling keyboard navigation and mouse wheel navigation, you take a control over the usability of your WordPress website. Touch navigation and touch sensitivity are important aspects, as many viewers use mobile devices to surf the internet. Options like these make SlideDeck the most effective responsive WordPress slider plugin available on the market.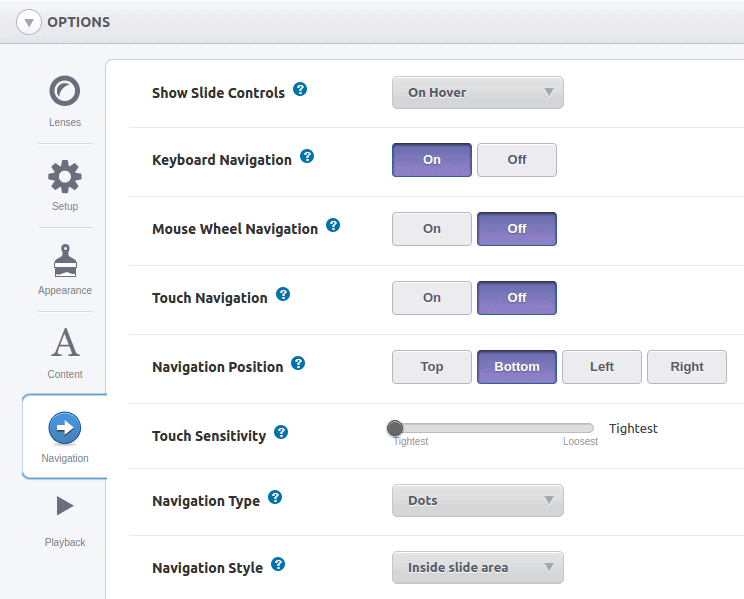 Playback, as the title suggests, enables you to select the sequence, autoplay, loop, intervals, transition, and speed of the slider playback. While making changes here, you should take into consideration the viewers' point of view, to make the slider effective and appealing.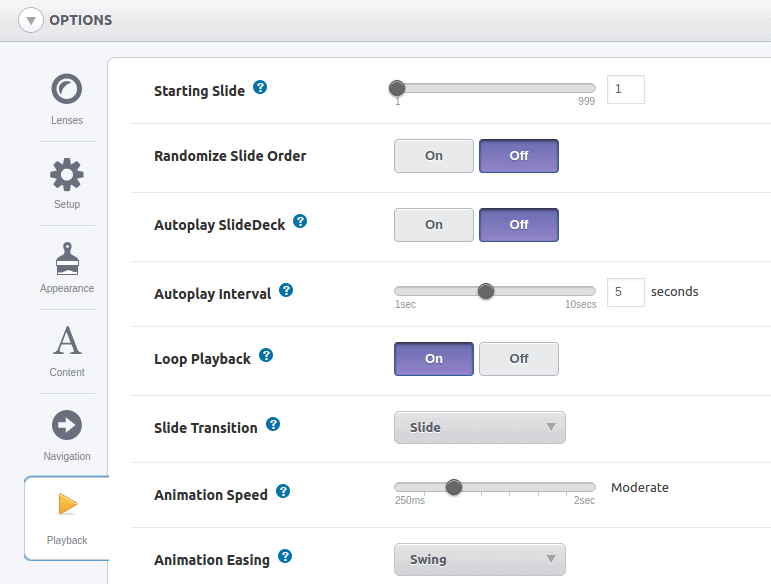 6. Custom Content Method
So, all these options mentioned above are available if you choose dynamic source method to create a slider. In the custom content method, you can create a slider that can contain different types of contents like image, video, text or HTML; or it can be a combination as well. With every option among these four you choose, you will get more choices to customize the slides with it.
Other than these, there are so many add-on features that SlideDeck offers including SEO optimization, slide linking, website linking, image protection, various slide animations, thumbnail navigation, etc.
---
Concluding the Review of SlideDeck
The best and the most successful plugins in the market primarily focus on enabling the user to bring the output as he/she has imagined, and it can be achieved through offering lots of customization control with minute details. SlideDeck does that job pretty well with the addition of frequent updates to enhance the capabilities of the plugin, I must say.
According to me, you will not find so many control anywhere else, which make SlideDeck the best responsive WordPress slider plugin on the market right now.
What do you say?