In the modern world, promoting business online is one of the essential things. You cannot imagine selling services without making your name sound on the Internet. If not a website, how else people will get to know about you? Golf is thought to be one of luxurious sport types and when you tell people about your club online, your golf website design should be smooth and outstanding. Golf is an elegant kind of sport, therefore you want your golf website designs to be clean and neat, yet fancy and applying to the page visitor's attention.
What are Golf Website Designs?
In a nutshell, golf website designs are WordPress themes that you can use to easily create your client's or your own aesthetically pleasing WordPress-based website. You just need to install WordPress and effortlessly apply your golf website theme (design). That done, you can edit your site to make it look and work as you see fit. Now let's take a closer at what is available.
Golf Club WordPress Theme
When you say golf, you imagine green grass and endless playgrounds. Up next, player hits the ball and the hit brings player's eye to the horizon looking for victory. Pleasure to your eyes and relaxation for your body. The color scheme, images and structure of golf website designs should bring your potential customer to the playground. Your page should deliver a feeling of fresh air, emulative spirit and the scent of green grass. Your customer should imagine a faint smile when the ball hits a draw. The layout should be simple for navigation, fonts are to be amiable, easy to read, text good to understand.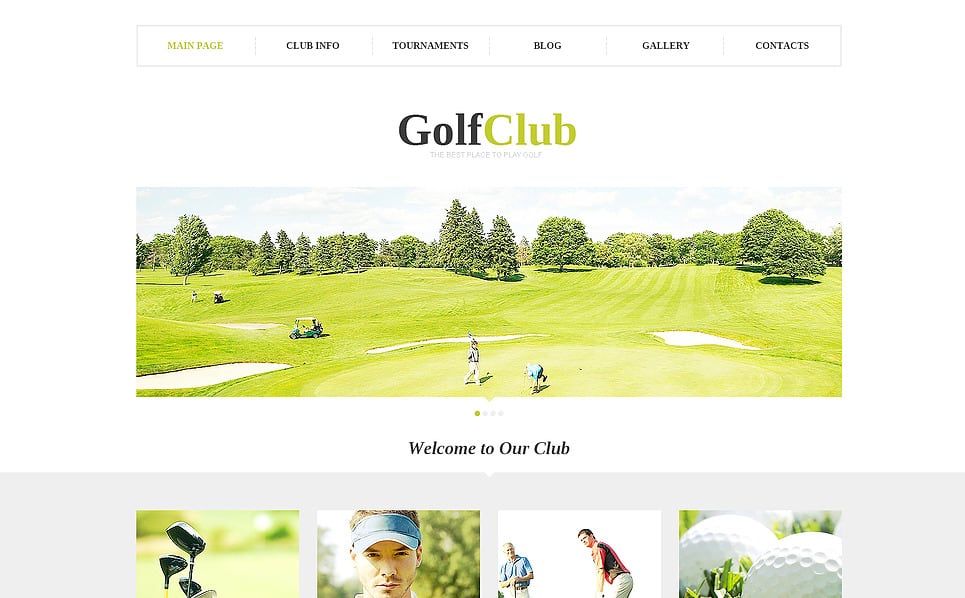 Golf Responsive WordPress Theme
Your company name, logo and slogan should specify your course in golf, values and mission statement. Visualization of what you offer to sport lovers, fans or beginners on the main page can be represented by means of slides or animated banners. One big background banner is also a modern trend in golf website designs and not only.
Combination of both: slides and banners displaying your club, practice ground, equipment and trainers also help the site visitor to understand your business better. Your customers should know what they are about to face when they hit your club. A call to action banner or slogan also attracts players and arises excitement to start a game.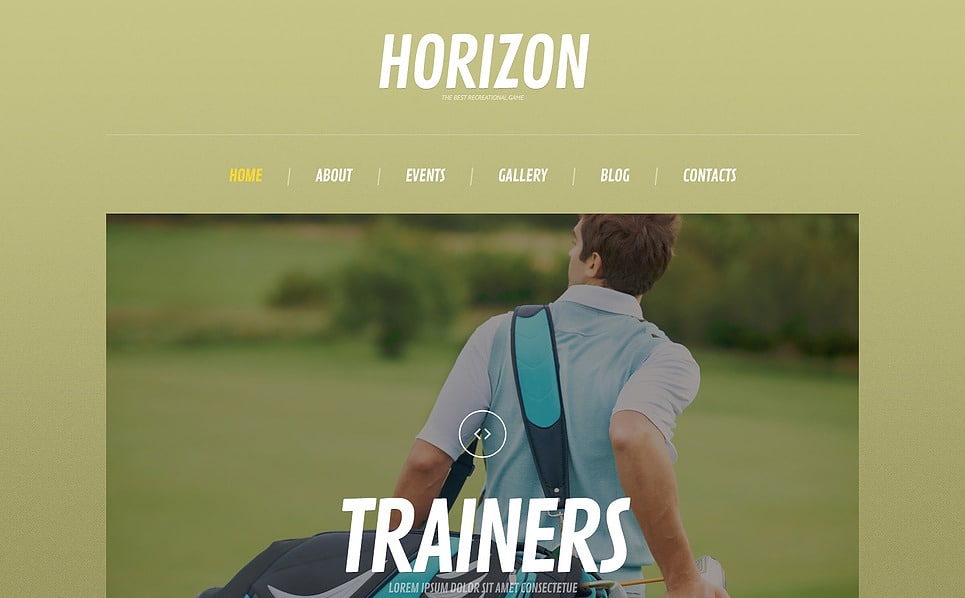 Horizon Golf Club Theme
It goes without saying that the next step is to tell your potential and returning clients more about what kind of services you have to offer: that is where we get to the About us or Why us page. Concise and positive organization description, what makes you different from other clubs, what makes your approach to sport and players valuable, why people should choose to visit you.
Your About page may include trainers' short background, testimonials from club members, a short paragraph about equipment you are using for rent and sale, pricing tables and ongoing discounts. Add information you feel people should learn about you to become interested in what you have to offer when they visit you for the first time and stick with the club and services.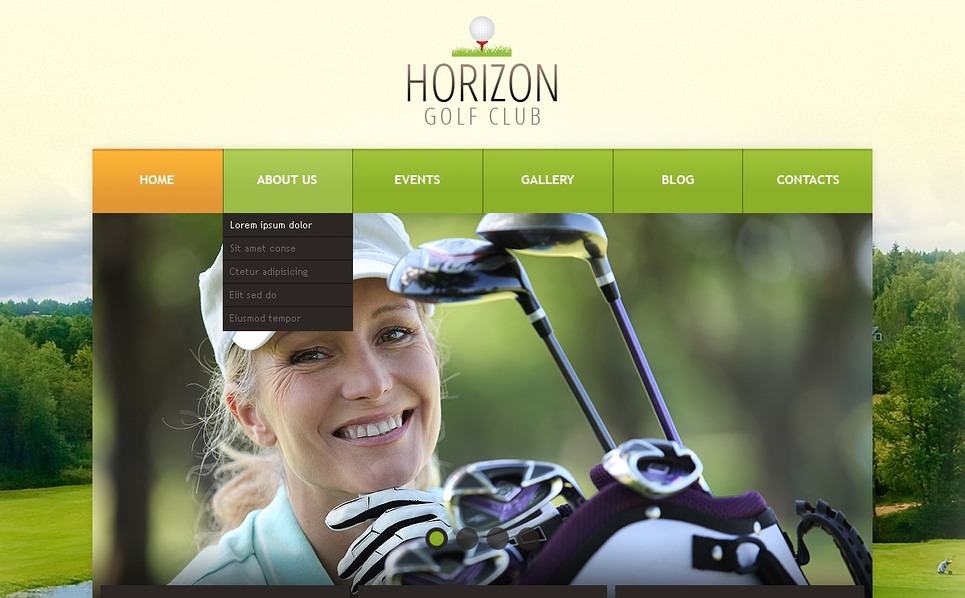 Hotel Leisure WordPress Theme
When you're offering golf coaching, free or discounted lessons, new collections of sports apparel, gifts to regular and new customers, any kinds of tournaments and games, that's a good idea to have an Events page notifying visitors of upcoming or past events. Your page should be up-to-date and give away a feeling of a vibrant page.
Your golf website design should display information about your products, plans, parties, anniversaries, achievements of the club, trainers and each member in particular. That's also perfectly fine to share all sorts of promos in social networks. Other than that, offering a newsletter subscription form is a great idea when it comes to golf website designs.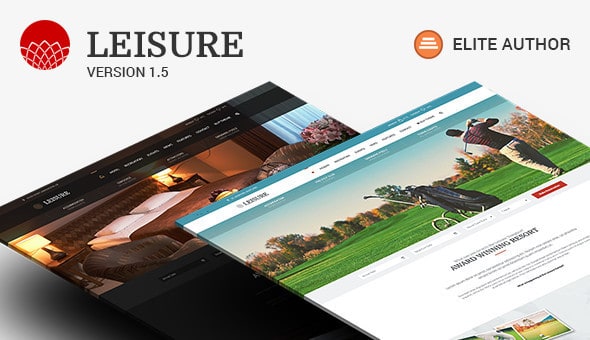 Golf Sports Responsive Theme
Let your customers' and coaches' happy faces speak for themselves. Your want to transfer your page visitor into the golf sports world, offer them to rest with you when scrolling through the Gallery page. High resolution photos will bring customers closer to you and instill an awesome impression about your brand.
You may also want to post a gallery of your club residence and show potential clients what they get after then get onboard. You can bring them into the marvelous world of the club, ball and holes by picturing draws and respectful building. Also, you can post professional photos of games held in the club. Alternatively, you can advertise collections of golf equipment and apparel in pictures.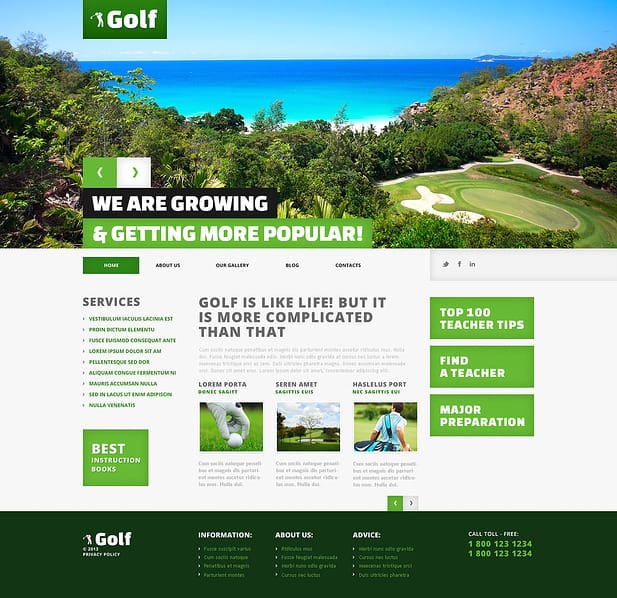 Tee Up – Elegant Golf WordPress Theme
Turn in more players by bringing up the Blog page: a blog is still a popular marketing tool for golf website designs. You can publish posts about golf experience, recommendations on golf approaches, history and news in the industry. It happens pretty often that a good introducing golf article, advertisement post or golf video lesson shows potential customer what leisure, joy and relaxation can be found in this luxurious sports.
You can tell people about your grounds, players, narrate about new horizons of sports in their life. An article worth reading brings visitors to the site and move your site to the top of search positions in crawlers because Google and other major search engines love regular high-quality content.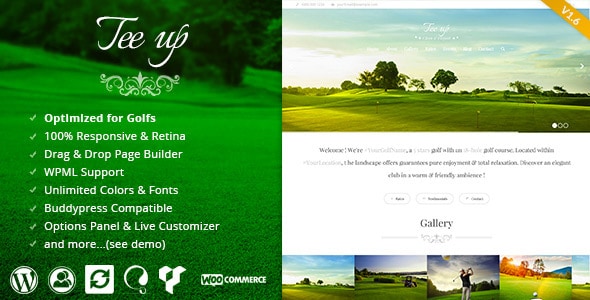 Brentwood – Golf Course Theme
Another great WordPress theme that allows you to shop online for variety of golf sport goods. With the development of WoCommerce and other e-commerce plugins for WordPress, it's possible to integrate a blog with an online store. Therefore adding an elegant shop page nowadays in not a difficult endeavour any more.
You can easily setup a online store or catalog page with a corresponding plugin and start selling all sorts of stuff right away, such as golf equipment, certificates for golf courses, collections of sports apparel, video lessons, membership plans – all of that is available online today. The availability of an online catalog or payment method will bring customers closer to you as well.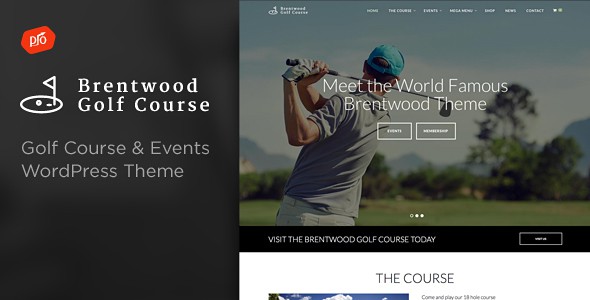 Golf Club, Sports & Events Theme
It's not a secret anymore that people like to be a part of something bigger that brings them joy of participating and sharing. Therefore, never forget about feedback. Adding a Booking form, a contact page and registration packages makes golf lovers feel cared about and satisfied with your services.
It takes just a few clicks to book a course or become a member of a club online and voila: you've got a new player on your team. Fancy booking forms and friendly member registration plugins became an integral part of the most required WordPress plugins long time ago. They are responsive and can be customized to fit your design. As a rule of thumb, plugins are included in packages and work out of the box in the golf website designs.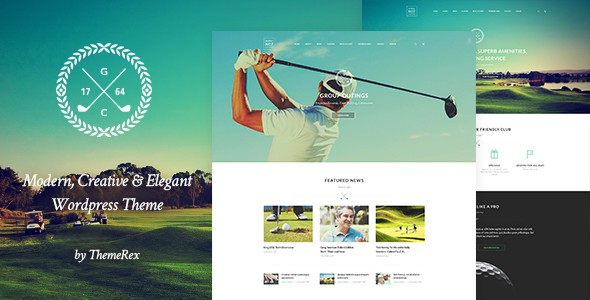 ---
Bottom Line
It has never been easier to integrate the elegant and exciting world of golf online with golf website designs. It goes without saying that your site should be attractive to customers, responsive, optimized with coherent content relevant links and fancy clipart. A fancy design is a must-have when it comes to golf website designs.
Do you attend a golf club with a cool website design?