Are you struggling with optimizing your WordPress posts or pages for SEO? In that case you'll be glad to get to know about a really neat plugin I bumped into the other day. It's called WordPress SEO Post Optimizer. You will be able to make sure that your post is in check SEO-wise within just 10 seconds or so.
Installation
In case you'd rather watch a video review of the plugin, here you go.
Once you've downloaded your copy of the plugin, you can go ahead and install it via uploading the plugin to your WordPress dashboard. Let me walk you through step-by-step to make sure that you get a homerun with that.. In order to install the plugin, you just need to go to your WordPress dashboard and select Add New under Plugins.
At this point, you should see the Upload Plugin button at the top of your dashboard screen.Click the button. Now you should see the Choose File button in the middle of your screen. You want to click it and navigate to the place on your hard drive where you saved the .zip file of the plugin By the way, your plugin file should be entitled wtb_seo.zip.
Now that you've found the .zip file, you want to select it and click the Open button in the lower-right corner of the dialog window you should be seeing now. At which point, you want to click the Install Now button. And finally you need to click the Activate Plugin link to finalize your WordPress SEO Post Optimizer plugin installation.
Multiple Keywords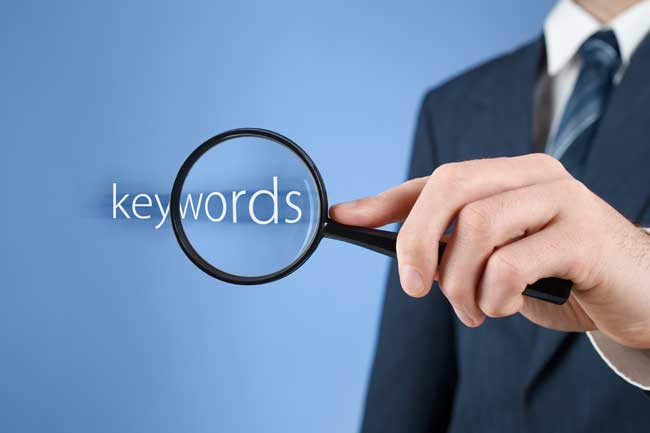 What is really going to catch your eye right off the bat is that you can actually optimize your post for up to 3 keywords. That's a very smart approach because it's best SEO practice nowadays to optimize for a set of keywords (SEO synonyms) rather than for just one keyword. If you do it the old-school way (optimizing for one keyword) you can accidentally over-optimize your post.
Refresh and Autocheck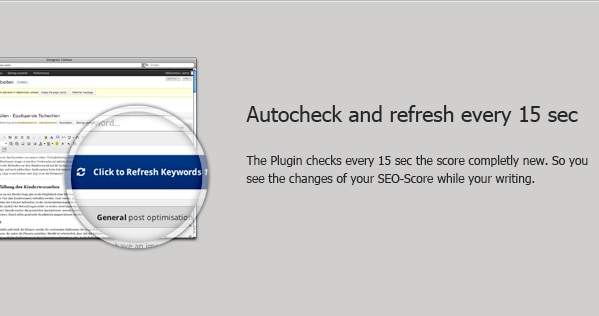 Once you've added your keywords, the plugin will automatically refresh and you'll be able to see both score and keyword density percentage for each keyword. Since you're not supposed to update your post or save the draft every time you want to see how your score and keyword density are doing, you can do really fast on-page SEO with the plugin.
Keyword Density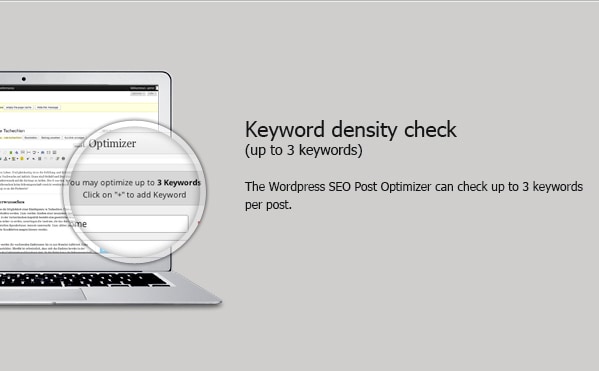 Though keyword density is a bit dated, you still may want to ensure that you stick to around 3% but be sure to use it rather as a guideline. Other than that, if you work with 3 keywords, it's OK to keep your keyword density at about 1-2% for each keyword because it's an ample percentage for search engines to grasp what your post is about.
Still One Main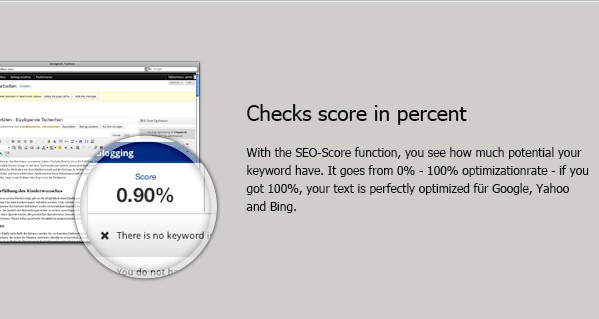 Though you can add up to 3 keywords, you still need to figure out which is the main one and make sure that you have the best score for that particular keyword. That means you want to do your best to use that main keyword in as many required places as the WordPress SEO Post Optimizer plugin suggests (with the exception of bolding, italicizing or underlining).
Auxiliary Keywords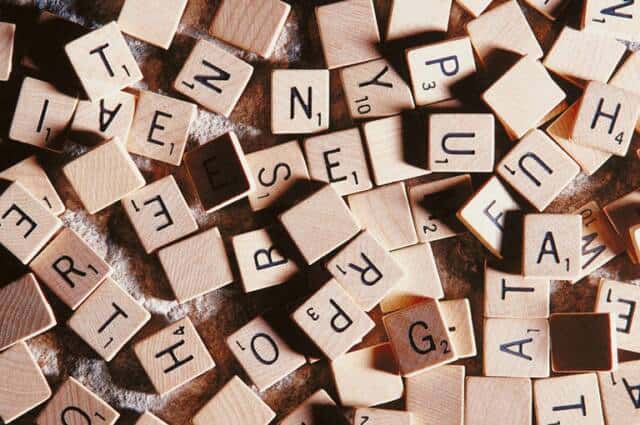 The rest two keywords are supposed to just bolster your main keyword. That's perfectly OK if you can't use those auxiliary keywords in every single spot the plugin suggests. For example, using all the three keywords in your post title would be downright overkill. The plugin is really helpful, but you still need to use your best judgement to make things look natural.
Word Count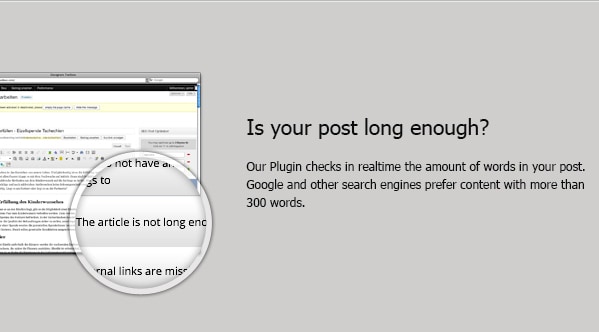 The plugin also checks for content length. Though it's a very controversial topic, you most definitely want to keep your word count at 300+. As a matter of fact, the optimal length for your post depends on your target audience and your industry standards. You may want to write 500+ word articles for younger audiences or if you run a news-like site.
If you tend to put together more in-depth posts, you should gravitate closer to 1000-word articles or more. Longer articles tend to be bookmarked and saved for later reading more often than not. That said, your main priority should be your post quality and how helpful the content is for your target audience.
Multiple Language Support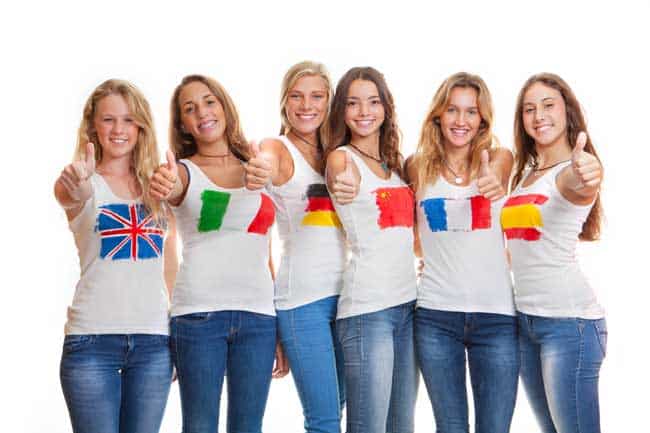 If you want to use the plugin for a non-English site, you can just enter your keywords and WordPress SEO Post Optimizer will give you the same robust information as it does for English-language keywords. That's really reassuring that the plugin developer went the extra mile to enable cross-language support.
Your Keywords in Image Alt Attribute (Tag)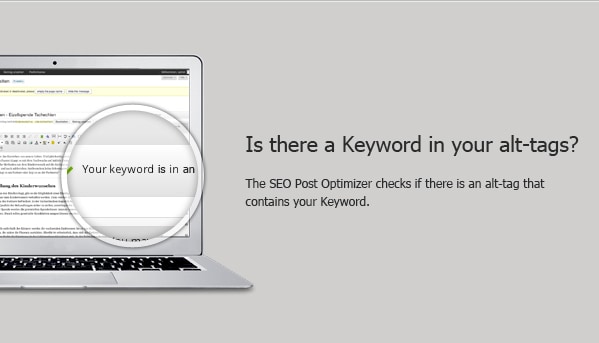 You'll always be in the know if your post or page has an image so that you can use your keyword in the alt attribute (tag). Other than that, the plugin does that for every keyword you specified. That means you can upload three images specifically to use those three target keywords that you optimize your content for.
Internal Linking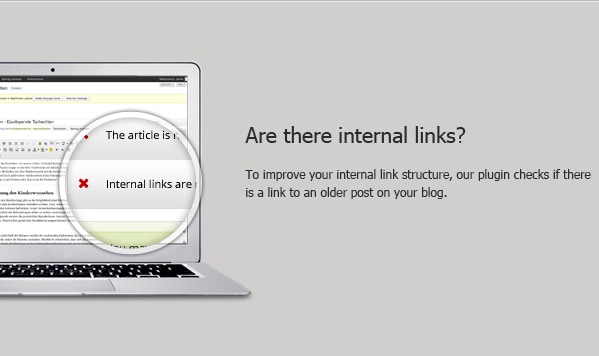 Odds are, you will also be surprised to get to know that the plugin developer took the plunge and added a neat feature to the plugin that allows checking for internal linking just as fine. That's a smart move because Google will like your site more if you link to other content within your site. Doing so means you're not "ashamed" of the other content that you have on your site.
Keywords in H-Tags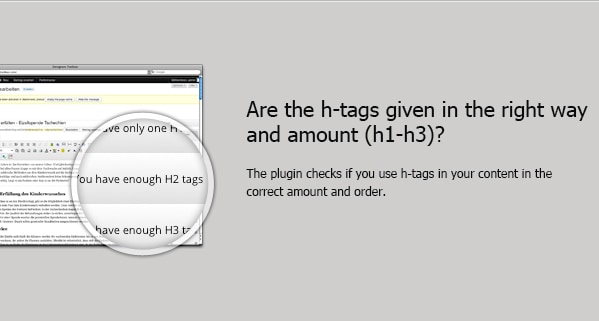 Should you want to make sure that your keywords are also in H-tags across your post or page, WordPress SEO Post Optimizer checks up for that aspect as well. Chances are, you'll want to use your main keyword in H1 and your auxiliary keywords in H2 or H3 tags both for usability and SEO reasons. The plugin allows you to keep track of that with ease and confidence.
---
Bottom Line
All in all, WordPress SEO Post Optimizer makes it possible to perform fast on-page SEO so that you can concentrate on actual content creation because all the heavy-lifting is done for you under the hood. You can just add your keywords and see at a glance what else you need to do to get the biggest bang for your buck when it comes to optimizing your WordPress posts or pages.
Did you have a chance to use the plugin? What features would you like to see in the plugin if any?