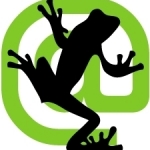 You may be building links for your site like crazy, but if your on-page SEO is ruined, you'll have a really hard time winning over your competitors. The other day I had a chance to use the Screaming Frog tool, which allows you to actually see what is wrong with your site in terms of on-page SEO and what exactly you need to fix on your site first thing tomorrow morning. The Screaming SEO tool also has some 'issues', which I'll tackle down in the post. And one more thing. If you think that the same info is available in Google Webmaster Tools, you're not exactly right, because it takes GWT too long – as opposed to Screaming Frog – to the date you need.
My Use Case
The point is that my site often undergoes some design changes, which sometimes results in broken links or stuff like that. So, I primarily use the tool to find broken links. As a matter of fact, the Screaming Frog SEO spider tool shows both internal (to your own site) and external links (links to other sites). Since a broken link can mean just wasting the Google juice you might make use of, it's really crucial that your website does not have broken links. That's the ideal situation, but practice makes perfect, right?
By the way, you can watch the Screaming Frog Youtube screencast I made specifically for the case study so that you can better get the idea how I used the tool and how you can use it. It's at the bottom of the post.
Screaming Frog Download
For starters, you need to go to the screaming frog download page. It's available for Windows, Mac and Linux.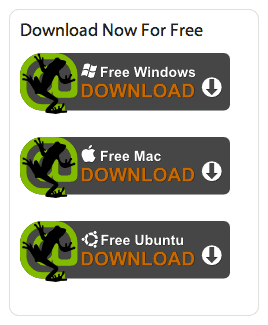 Case Study
Since Screaming Frog has a robust user guide (kudos to the developer!), I'm not going to just copy everything to my post, because it just makes no sense and that would be dirty pool. Instead I'll just go through how I used the Screaming Frog SEO spider tool for my own site and what issues the tool helped me to find out about.
Create Your Report
Once you have downloaded and installed your Screaming Frog SEO tool, just fire it up and specify your site URL in the appropriate text field.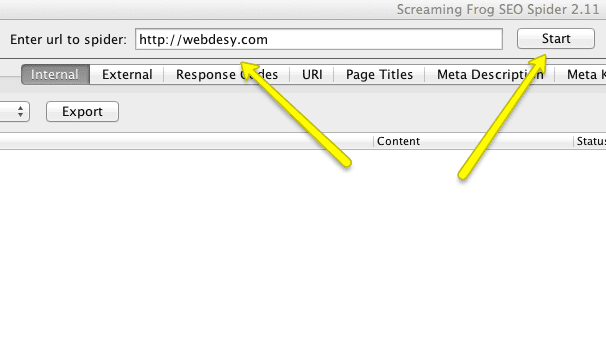 That done, just click the Start button to get the ball rolling. Depending on your site size, it can take you anything from a few minutes to a few hours.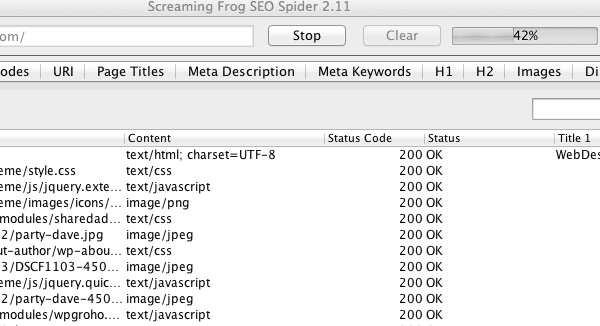 One of the sites that I provide SEO for is pretty big and the Screaming Frog spider needed over 10 hours to check all the pages and links on that site. On the other hand, it took about 10 minutes to totally check WebDesy.com . So, it really depends on the size of your site. If it's a huge one, you may want to launch the process before you go to bed so that it's ready in the morning.
Once your Screaming Frog SEO spider is done with its check-up, it'll give you a report, which allows you to see all sorts of issues with your site. You can see a list of the data collected here.
Filter by File Type
For starters, you can filter your URIs by file type in case you need to know what file types you have on your site.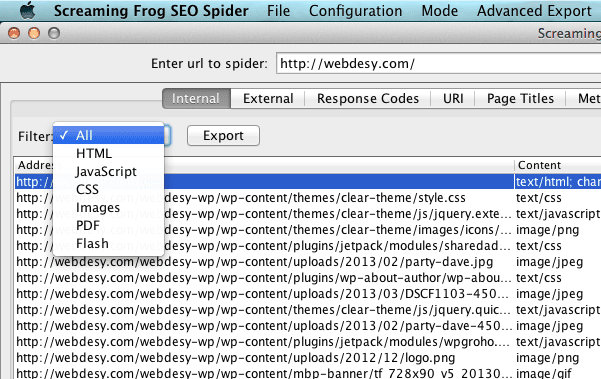 If you want to see whether you have any external link issues, click the External tab.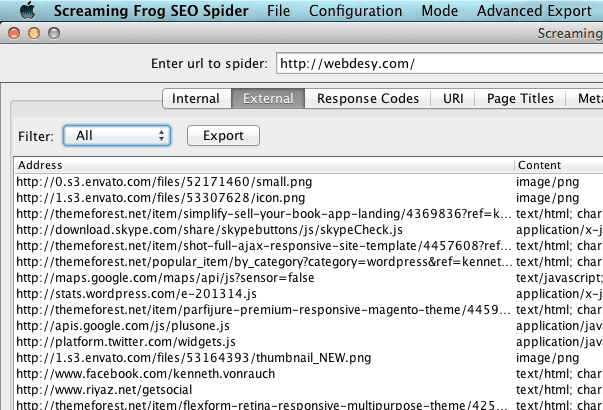 By the way, you can filter your external links by file type as well.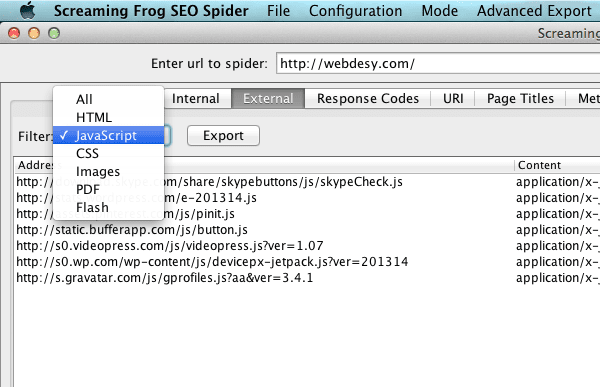 Response Codes
This tab allows you to see if you have any issues with your pages and links. See more info about response codes here.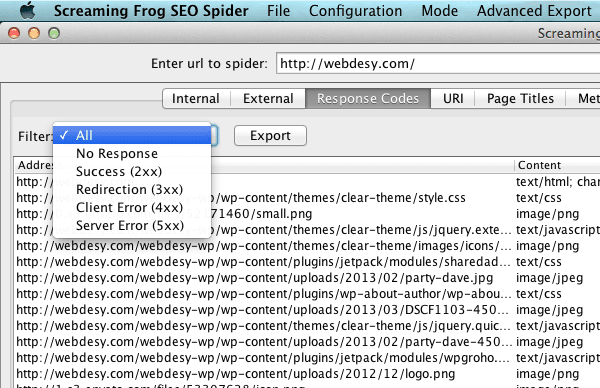 If your server is not powerful enough, you may have lots of timeout messages in your final Screaming Frog report (in the Response Codes section). If you're not sure about how strong your server is, you may want to start with minimal settings in the first place.

As a matter of fact, that's exactly what happened in my case. At first I ran my Screaming Frog SEO spider without any speed restrictions. Since that caused an overload on my server, I got a bunch of timeout message in my report (48 error messages).
It goes without saying that I was not happy with that result. That's why I decided to change my speed settings keeping them at minimum. Just to keep both me and my Screaming Frog SEO spider calm and happy.
In order to change your speed settings, you need to go to the Configuration drop-down menu and select the Speed option.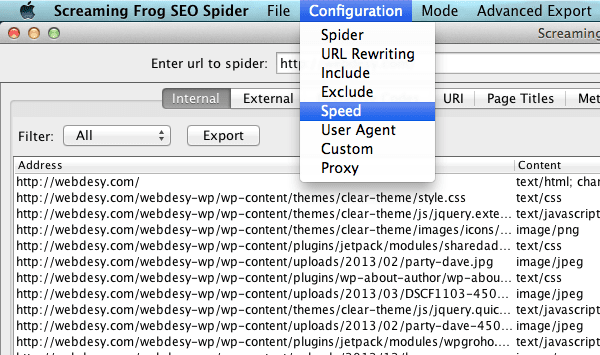 And just set both Max Threads and Max URI/s to 1. Just like on the image below.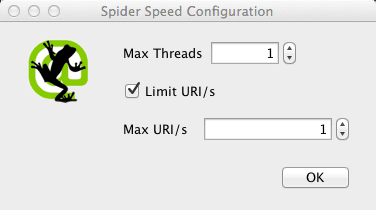 Having set Max Threads and Max URI/s to 1, I ran my Screaming Frog spider tool again and it gave me just one timeout message.
As I later discovered, the error message was about a really heavy page on my site. So, it's perfectly understandable why I was getting that message. The thing is that the images I used on that page were just not optimized whatsoever. I'm not even sure when I'd find that out without Screaming Frog. It just screamed and showed me the issue. 🙂
Moving on to the rest of the tabs to see what they have to offer …
URI
This tab allows you to check your URIs for all sorts of issues such as underscores, duplicate or dynamic URIs. These characteristics are important, because they can harm your site both in terms of user-friendliness and SEO issues.
I found the following issues with WebDesy.com:
Non ASCII Characters – The URI has characters in it that are not included in the ASCII character encoding scheme. Such as ã, ç, è, etc.
Underscores – The URI has underscores within it which are not always seen as word separators. That's an insight for me, because I used to rename files specifically with underscores. Not any more. 🙂
Dynamic – The URI could be dynamic in nature (includes paramaters such as '?' or '&' etc). This can seriously drag your pages back in the results pages, because non-alphabetic characters, dynamic URLs are ready partially, and you can use your keyword.
Page Titles section
As you most likely have guessed, this sections provides all sorts of info about issues related to page titles. And since title is the most important aspect of a page (except for the actual page content), you really need to make sure that everything is A-OK in that regard. I found the following problems with my page titles:
Duplicate – Any pages which have duplicate page titles
Over 70 characters – Any pages which have page titles over 70 characters in length.
Below 30 Characters
Same as h1 – Any page titles which match their h1 (I don't think it's a problem, because WP does it by default).
Multiple – Any pages which have multiple page titles.
Meta Description
I got just one type of error messages in this section, but they're weird ones. So, the error reads as follows: Missing – Any pages which have a missing meta description. The strange part is that if you go to the homepage of WebDesy.com and check it manually, you can clearly see that description is available. My first guess would be that it's just not compatible with some plugin that I'm using, but I'm not really sure about that. I'm going to test it on a clean WordPress install just to see if I hit the nail on the head.
Meta Keywords
In this section of my Screaming Frog SEO spider tool, I got a whole lot of missing keywords error message (Missing – Any pages which have a missing meta keywords). I'm not exactly sure why the developer still has the option, because the major search engines (for instance, Google) does not pay any attention to the meta keywords aspect any more. Plus it's been so for quite a while now. I personally think it's kinda obsolete. What do you think?
H1
This section turned out to be pretty generous in terms of error messages for my site. 🙂
For starters, it's saying that my h1 tag is missing on many of my pages. The interesting thing is that I do have the h1 tag in the actual code. For example, if you go to my homepage, you'll see the following code:
 








So, basically the h1 tag is there, but it's value is not represented by plain text. It's actually an image. I assume it's been cause either by my WordPress theme or one of the plugins I'm using.
Another message that I got in the section is this one: Duplicate – Any pages which have duplicate h1. The funny part is that it considers my missing values in h1 tags as duplicates. So, once I fix the previous issue, this one should be gone as well.
The Over 70 Characters error messages are totally legit and I just need to fix them. It looks that I just did not pay enough attention to this aspect when I just started the blog.
And the last type of error messages in this section is Multiple, which means I have multiple H1 tags on many pages of my site. It's caused by the fact (as I explained above) that my logo image is also using an H1 tag and every post has h1 tag as well, because each post name is turned into an h1. Again, fixing the initial issue with my h1 tag for log will fix most of the h1 issues.
H2
Here's a list of my H2 tag issues, which are pretty often suspicious as far as I'm concerned.
Missing – Any pages which have a missing h2 (I don't think it's a problem, because it's perfectly OK to have a few H2 tags on a single page (as opposed to H1).
Duplicate – Any pages which have duplicate h2.
Multiple – Any pages which have multiple h2. Again, I don't agree that it's a problem, because it's totally OK to have a few subheading on a single page.
Images
I'm really happy that I used the Screaming Frog SEO spider tool specifically for locating issues with my images, because I found lots of them. Since large images make your site slower, it's highly likely that these issues are dragging my site down in terms of Google rankings.
So, the biggest issue is the size (Over 100kb – Large images over 100kb in size). I actually discovered 147 (unbelievable!) too heaver images. I will have to basically optimize all of them. I have this idea that crossed my mind when I was looking at my image size issues. It would be really useful if the tool could also give links to the resources that can help with specific issues. For example, in my particular case it could give a few links that explain what I can use to optimize my hefty images.
And the last image-related issue is: Missing Alt Text – Images that are missing alt text. That's a very legit warning, because the alt tag is the main source that search engines use to figure out what is actually depicted on an image. You can actually click the address (URI) of the image and then the 'image info' tab in the lower window pane to view which pages have the image on and which pages are missing alt text of the said image.
Directives
The only issue that I'm having with the Directives section is that I use rel=canonical on all of my pages, which – in my humble opinion – is not an issue at all, because that just helps me define appropriate content as canonical so I that I don't have any issues if my content gets published elsewhere.
Custom
The custom tab works alongside the 'custom' configuration feature, but I did not use it for my site, because I already have enough issues to take care of. 🙂
Screaming Frog Youtube Video
In this Screaming Frog Youtube screencast, I show what issues I was able to find with the tool. So, if you're more into videos, just lay back and watch the whole shebang.
By the way, if you like my Screaming Frog video, you may want to subscribe to my YouTube channel for other kick-ass videos.
What I Have to Fix
I'll list all the issues that I'm aware of now so that you can see what kind of problems I'll be able to fix now. So, the frog allowed me to discover the following issues:
Broken links
Too heavy images
Too heavy pages
Non ASCII Characters< in URIs/li>
Underscores in URIs
Dynamic URIs
Duplicate page titles
Over 70 characters in page titles
Below 30 Characters in page titles
Same page title as H1 value
Multiple page titles
The H1 tag issue with my logo
Duplicate H1 tags
Over 70 Characters in H1 tag values
Multiple H1 tags
Missing alt tag in images
Screaming Frog License
A Screaming Frog License is £99 and it's really money well–spent if you're going to fix all the issues that the software allows you to find out about. As a matter of fact, while writing the post, I got a few ideas how using the tool can help me get a whole lot of new customers. One of them is run the tool on a potential customer's website and then contact him with a full report. It's be way harder for him to say no in that case. And that makes Screaming Frog download look even better.
---
In Conclusion
The Screaming Frog tool is totally worth your while, though I should also point out that it has a few features that you don't really need in nowadays SEO everyday life such as error messages about multiple h2 tags.
Sure thing, you need to download Screaming Frog and test-drive it first before you take the plunge and buy your Screaming Frog license. All and all, it's a must-have tool for every serious SEO guy.
What software do you use to discover the issues that the Screaming Frog SEO spider tool allowed me to find? Comparing its features with Screaming Frog, which one is the winner? Why is that? 🙂